Publications

New issue

Montessori for seniors II

While the first book "Montessori for seniors" offers the basis and grabs one's attention by looking into Montessori pedagogics and/or principles and a practical part with adapted material, the second book is an extension.

"Montessori for seniors part II" shows the development from the first issue of the book in the year 2001 up to now. The 10 modules of Montessori pedagogical work lead through the book very closely related to practice and with many illustrations. A personal touch is added to the book with creative thoughts concerning work spanning the generations, the description of a therapy garden or with looking into the Japanese tea ceremony.

The concept of the "Montessori Life counsellor according to Bianca Mattern" , which, among other things, is presented in this book, helps to see and accept old aged as valuable people and at the same time supports solution-oriented work. The headline of Montessori therapy is "to get to the weaknesses with the help of the strengths.

It is not relevant whether the book is used by "children" for their "parents", by nurses for the elderly, pedagogues or other people who work with old people. It is aiming at enriching the senior's life with valuable, respectful and meaningful work, for inpatients as well as for outpatients and to make them feel appreciated.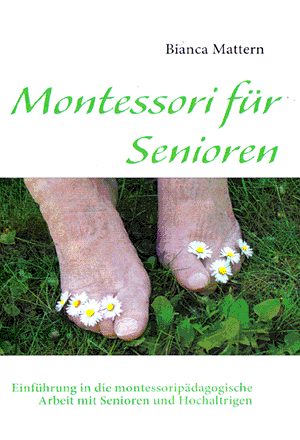 The book is available from December at the privat practice.

Montessori Praxis
Bianca Mattern
Paula-Deppe-Str. 2
94036 Passau

Top of the page

Montessori für Senioren (Montessori for seniors)
(no longer available, new issue/edition is due by the end of 2009)
Also, "new edition out now".

Montessori-pedagogical work with seniors in assisted living

Bianca Mattern: Verlag modernes lernen Dortmund ISBN 3-8080-0472-X

Every human being develops, irrespective of age. Maria Montessori has observed that children have to comprehend to be able to comprehend. This is not only true for children but also for old aged.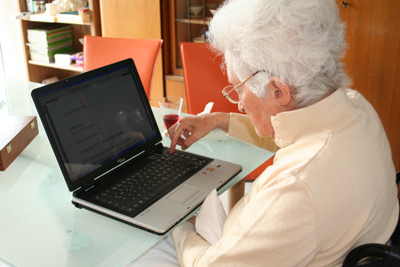 In this book, the author's experience adds to the old people in the "assisted living" in the Seniorenresidenz. It is meant to help see old people as valuable human beings and support them to relearn forgotten procedures or to to facilitate certain tasks with adapted material. Always according to Montessori's principle: "Help me to do it myself".

In the first part, the author tells us about Montessori pedagogics and therapy with old people. In the second part, a resident reports about his impressions and experience. The third part is the practical part with suggestions for different materials, illustrated with photos. Materials from the old peoples' everyday life (e.g. medicine packaging) are seen in a different light. The seniors know the material and it is inexpensive to get. This book includes various animations which can be made by oneself or copied by "children" for "their parents", by nurses for the elderly, pedagogues, members of the family and assistants by everyone who works with old people respectively.

Top of the page