Homepage

Welcome,
At the beginning of the 20th century, Maria Montessori developed a didactic pedagogical method to support mentally handicapped children. Her basic idea to foster abilities and skills with the help of pedagogical measures in order to counteract a disablement can easily be transferred into geriatrics. Among older patients, organic changes induced by old-age or disease often lead to damage or even loss of function, which, in turn, brings along various ability disorders and thus involves old age disablement.
When Ms. Mattern told me about her work and her demand to transfer the Montessori-method to seniors, I found it exciting. My expectations are fully met by the present book, in which Ms. Mattern reports about her experience. She has managed to transfer the principle of the Montessori-method to the work with seniors: attracting the seniors´ full interest and thus increasing their ability to be autonomous in a didactically prepared surrounding. It is particularly hard and agonizing for aging people to re-learn lost abilities. I am impressed by the way this extremely hard work for seniors is supported by "Montessori for Seniors" in a holistic way and by a deeply humane person. The methodology introduced by Ms. Mattern is an image of the multidimensional process in geriatrics. Transferring Maria Montessori's ideas to the work with the aging could easily be brought to the work of the interdisciplinary geriatric team.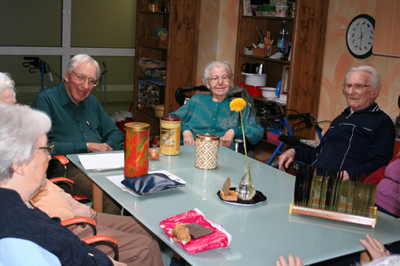 Aidenbach, July 2000

Dietrich Nevelling
Head physician of the Geriatric Hospital Aidenbach
Medical specialist for internal medicine/ clinical Geriatrics
.... Maria Montessori's basic idea to open up the world for children is so brilliant and broad, that the world's not only the children's oyster but it also does not cease to amaze us as adults; it finds contexts and enriches our lives. By using this social pediatric method we were taught how even severely disabled children with multiple handicaps as well as children threatened by disablement can be supported in that they can – according to their abilities – become independent and autonomous. Integration into a fulfilled life is the next step, which can succeed if the disabled person in turn finds a "prepared surrounding," that means a work place where (s)he can use his skills and abilities.

Most seniors had, at some point, lived their lives independently and normally; it is due to the process of aging that this independent lifestyle becomes harder to sustain. There is the danger of getting tired and thus one moves less with regards to physical and mental dexterity. Montessori pedagogies and Montessori therapies offer many possibilities which lead through monotony and solitude, elicit forgotten skills, and even trigger new talents. Life starts to get better and a positive way of thinking starts. Ms. Mattern is the first Montessori therapist who works with aged people according to the Montessori principles and who also documents the work. She observes seniors and senses their needs and with a great sense of empathy looks for offers which really interest them and simultaneously fulfill the medical and psychological requirements.
I thank Ms. Mattern very much for her ground breaking work.


Lore Anderlik
Montessori Therapist
Head of the Montessori Therapy Training

Top of the page